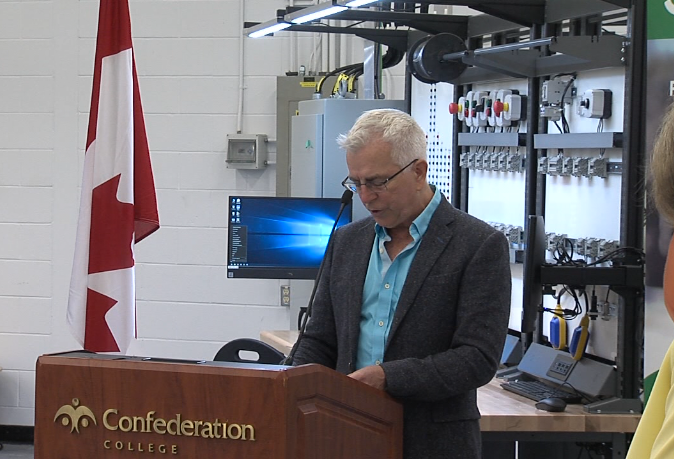 A funding injection of $1.3 million will help Confederation College become a net-zero emissions facility and support renewable energy learning opportunities.
THUNDER BAY — Confederation College has received $1.3 million from the federal government for renewable energy projects to help it become a net-zero facility and meet curriculum goals.
Funding for the government's Smart Renewables and Electrification Pathways program was announced Friday by Thunder Bay-Rainy River MP Marcus Powlowski on behalf of Natural Resources Minister Jonathan Wilkinson.
The college uses on-campus renewable energy systems to house applied skills-based learning opportunities.
The new funding will support this as well as projects like the college's Sustainability Roadmap Study, which focuses on energy topics including efficiency, renewable energy and electrification.
Results will be shared with community partners, including Indigenous communities.
College President Kathleen Lynch said the funding will bolster the college's efforts to become more energy efficient while creating learning opportunities for students in renewable energy.
"The funds will be used to develop a plan for the college to continue its energy reduction activities. So far, we have reduced our energy consumption by 40% and we are on track to reduce it by 60% by 2030." Lynch said at a news conference on Friday.
The federal government has set a national goal of achieving net zero emissions by 2050.
Lynch said she thinks the college can make it happen.
"In addition, we will develop a curriculum and opportunities for students to learn more about renewable energy sources, and be able to apply this in industry, municipalities, First Nations and apply this knowledge in their careers.
Besides the environmental benefits, Lynch said there is an important economic aspect.
"We're saving a quarter of a million dollars just by heating our main campus building using these different technologies to reduce our energy consumption, and we know that's only going to increase over time. We're really happy to share this information."
Powlowski added that educating students about the intricacies of various forms of renewable energy will ultimately benefit entire communities.
"It's certainly desirable for communities to embrace green forms of energy. People need to have the technical knowledge to use these things. A lot of this funding helps provide that know-how."