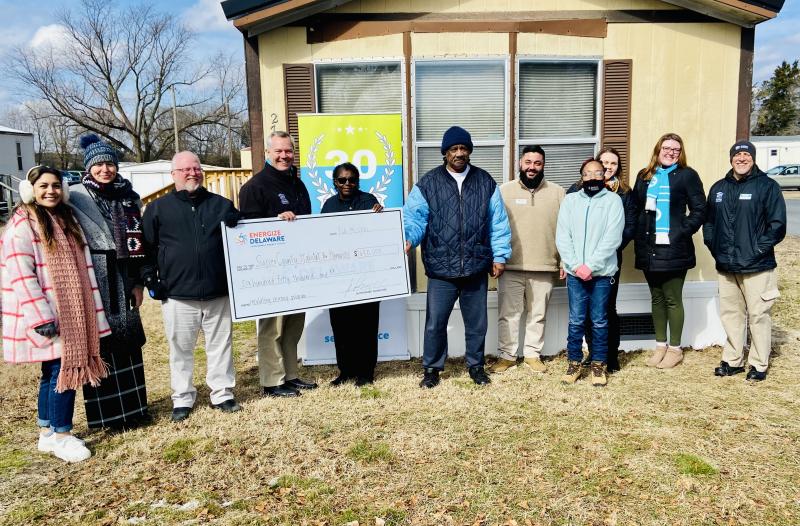 The Empowerment Grants Program, developed and administered by Energize Delaware, has now awarded $4 million in energy efficiency grants for underserved communities in all three counties.
One of the largest grants, in the amount of $650,000, supports an insulated baseboard program for manufactured homes run by Sussex County Habitat for Humanity. These Empowerment Grant funds were made possible by the merger between Exelon Power and Delmarva Power in Delaware, and authorized by the Delaware Public Service Commission. To learn more about the Empower Grant program with Delmarva Power and what was funded, go to empowergrantde.org.
"We have learned a lot over the past two years about the uncertainty and fragility of our community during times of crisis," said Empowerment Grant Manager Jim Purcell. "The empowerment grant has given relief and hope to many people looking to save on energy costs, while reducing the carbon footprint in our communities."
To pilot an insulated baseboard program for manufactured homes in Sussex County in 2020, a $100,000 empowerment grant was awarded to Sussex County Habitat For Humanity. The program has been so successful that an empowerment grant in 2021 renewed the investment with additional funding of $650,000 over the next two years. These additional funds provide the opportunity to expand the program to also include Kent County residents. The two Habitat chapters will identify 80 homes for this critical energy efficiency upgrade.
"This is the largest single grant in our history, and we are delighted to be able to help so many households improve their living conditions and reduce their utility costs," said Kevin Gilmore, CEO of Sussex Habitat. .
In addition to helping reduce energy costs by 25%, insulated baseboards can prevent costly damage involving water pipes and rotting floors, and protect the frame of these manufactured homes from other hazards.
Those interested in applying for the Insulated Baseboard Program can contact Sussex County Habitat for Humanity at 302-855-1153.
The 2023 expansion to include Kent County will be implemented in partnership with Central Delaware Habitat for Humanity. Only Delmarva Power customers are eligible for this program.