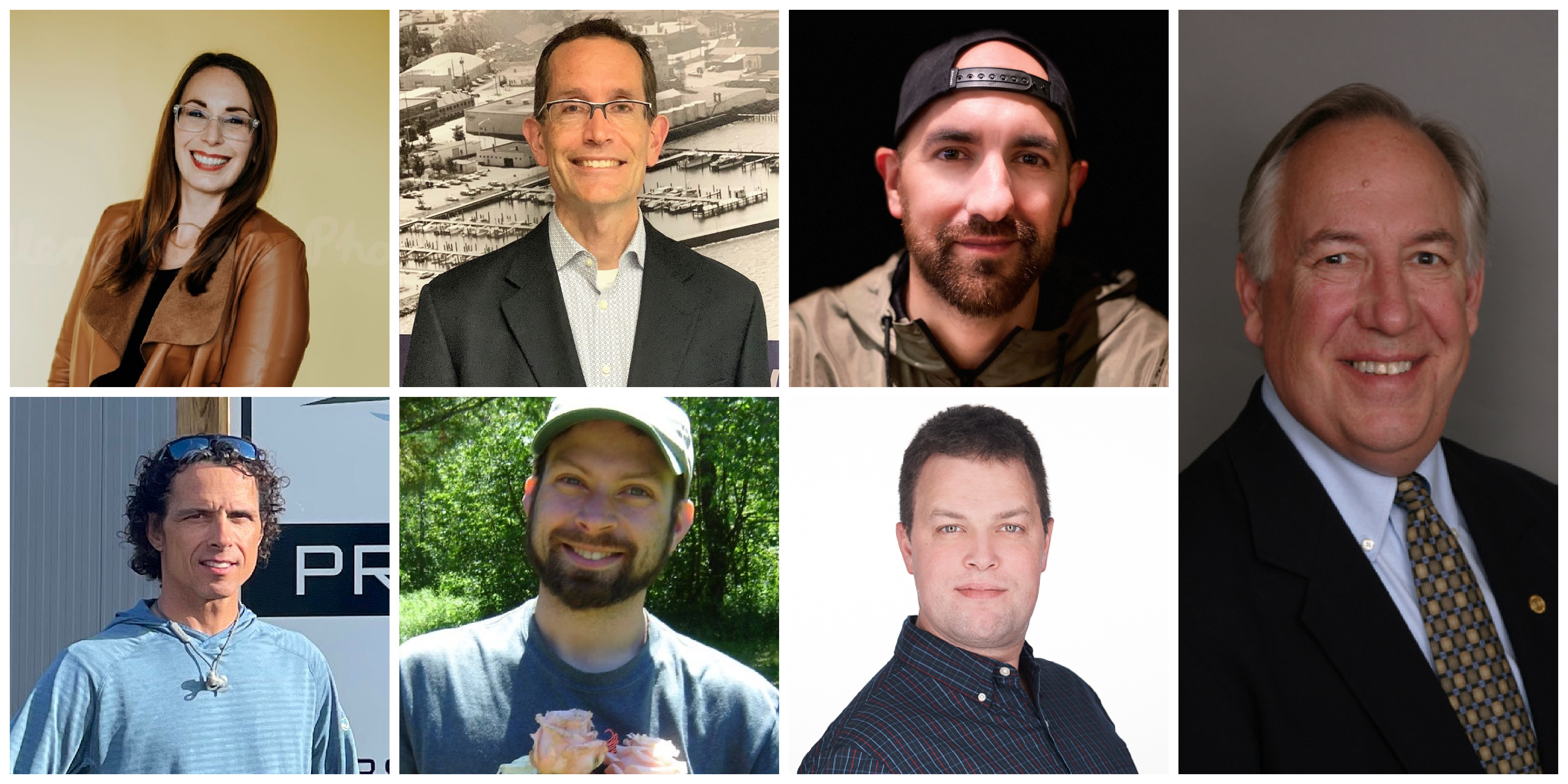 Seven candidates will compete for five vacant Traverse City Commission seats this fall. With Mayor Jim Carruthers not seeking re-election, Richard Lewis – a former city manager and former city commissioner – ran unopposed for mayor. Also on their way to probable victories, three candidates are vying for three available seats for four years, including incumbent Tim Werner and newcomers Mi Stanley and Mark Wilson. Meanwhile, three candidates – Tim Pulliam, Merek Roman and Mitchell Treadwell – will vie for a partial two-year seat that will open when Commissioner Roger Putman resigns in November.
Candidates have until 4 p.m. Friday to withdraw their files, after which the city clerk's office will certify all names for placement on the ballot. Here are the candidates – and the issues – likely to go to the polls this fall.
Mayor (1 seat available, 1 candidate running)
A longtime member of local politics appears to be on his way to becoming Traverse City's next mayor. Richard Lewis, who served as city commissioner from 2015 to 2019 and previously served as city manager of Traverse City for 17 years and St. Joseph for two years, is running unopposed for the seat vacated by Mayor Jim Carruthers. Carruthers considered running for the open partial term seat on the commission, but said The teleprinter that after 22 years of municipal service, he decided to retire to focus on his health and his family. "It was a tough decision, but as they say family comes first," says Carruthers. "I will stay involved in one way or another and always be a political activist and keep a close eye on our city and our growth."
For his part, Lewis – who currently sits on the board of directors of the Traverse City Downtown Development Authority (DDA) – says he wants to leverage his institutional knowledge of the city to help with some of the major projects to come, ranging a new master plan to tackle major infrastructure upgrades. While elected officials with long experience are sometimes tempted to become excessively involved in the day-to-day operations of staff, Lewis says he will just be "one of the seven votes" as mayor of the committee and has a clear meaning the separation between elected roles and employees. "I like to think that I can be an asset to Marty (Colburn, city manager) and the next director of Traverse City Light and Power and the director of DDA, but in the end, they were the ones who were hired to do get things done, "he says. . "I would just like to be there to be a part of it and help get things done. "
With so much turnover looming in the city commission, Lewis says it will be important this fall for the new group of commissioners to collaboratively set strategic goals early on and stay focused on those priorities over the two years. coming years. Lewis is hoping to serve at least two terms as mayor, noting that most commissioners serve four-year terms and that he plans to run again in 2023 so that he can serve during the same period. This could set up a 2023 showdown between Lewis and Pro Mayor Tem Amy Shamroe, who previously said The teleprinter she will also be a candidate for mayor for the next term.
Full mandate (3 seats available, 3 candidates running)
With Commissioners Brian McGillivary and Christie Minervini having announced that they will not stand for re-election this fall, two new seats will be available on the Board of Directors. Meanwhile, Tim Werner – whose term is also expiring – will seek re-election. More details on the applicants here:
Mi Stanley was born and raised in Traverse City, graduated from Traverse City Central High School and spent two years at Northwestern Michigan College before transferring to Michigan State University. After a year with AmeriCorps, she spent 15 years in Syracuse, earning a Masters of Fine Arts and teaching at Syracuse University before "booming back" to Traverse City in 2017. Stanley is now in charge. communications and marketing for Traverse Health. Clinic and says she felt "responsible to my hometown for getting up to speed" after being encouraged by other community members to run for the city commission.
Tim werner is seeking a third term on the city commission, telling The Ticker that the departure of so many incumbents this fall prompted him to stand for re-election to help ensure continuity and momentum on the board. He currently sits on the Board of Directors of Traverse City Light & Power and has previously served on the Planning Commission. Werner cites the redevelopment of the city's surface parking lots for housing, measures to tackle climate change and "underground infrastructure" as key issues on his radar. "These three things taken together, I feel like we have so much potential and we're starting to move in the right direction," he says. "I would like to continue to be a part of this process.
Marc Wilson is a "long-time intergenerational resident of the region" and holds a Masters of Public Administration from Central Michigan University. He is currently Vice-President of the Grand Traverse Band of Ottawa and the Chippewa Tribal Council of Indians and is completing the second of two four-year terms on that council (he does not intend to be re-elected when his term will end in May). "As a long-time resident, I have dreamed of giving back to the community, and one of the best ways to do that is to volunteer my time to help solve the complex issues in our city," he says. . Wilson says he strongly believes in "sustainable growth," saying he wants "to make sure our capacity matches the influx of people who want to settle here and enjoy what Traverse City has to offer" .
Half-term (1 seat available, 3 candidates running)
Three candidates will compete for a partial two-year seat left vacant by Commissioner Roger Putman, who will step down in November for health reasons:
Tim pulliam is the co-founder and president of Keen Technical Solutions, a Traverse City-based company focused on energy conservation strategies and solutions. Pulliam has an associate's degree in construction management and is a licensed mechanical contractor and boiler installer. He is a frequent and active cycling competitor in the local outdoor community. Pulliam drew on his experience in the energy sector to contribute to the city's Green Team, an advisory group responsible for recommending sustainable development projects. "I'm so proud of the community we have," Pulliam says. "One place where I feel a bit disappointed is in all the chaos that surrounds our local politics… we're at a point where there will be a ton of opportunities, and I want to be there to help set that direction. "
Merek Romain is an Analytical Engineer native of Glen Arbor, with a Masters in Applied Economics from Advanced University Programs from John Hopkins University and a Certificate from the JP Morgan Center for Commodities at the University of Colorado at Denver. He has extensive experience in the oil and gas industry, having previously worked for Baker Hughes for almost nine years, and hopes to put his energy and raw materials experience to good use on the commission. "I want to deliver electricity in the most efficient way possible at the lowest price to taxpayers, whether through oil and gas or the city's green energy goals," he says. . Roman has been a substitute teacher for Glen Lake Community Schools, is a Cherry Capital Toastmasters, and is a Boy Scout Leader.
Mitchell treadwell is a landscape designer and river steward who attended Northwestern Michigan College and Michigan State University and is currently President of the Central Neighborhood Association. Treadwell sits on several city councils, including Parks and Recreation, the Traverse City Housing Commission, and the Board of Zoning Appeals. "Although I have been speaking out for a long time about the city's issues, ranging from public art and waste management in parks to stormwater management," he says, "last year has showed the city needs to do more to tackle affordable housing, diversify our economy, and pay city workers a living wage so departments can better fill vacant positions. "
Voting issues
City commissioners on Monday approved adding wording to the November ballot to increase the city manager's spending power. The charter amendment would change the amount the city manager can spend on a single transaction without the approval of the city board from a fixed amount of $ 9,000 – which has been the case for 16 years, since 2005 – to a percentage of budgeted general fund expenditure each year: up to one-tenth of a percent, which would equate to approximately $ 19,700 for that fiscal year. This move aims to keep pace with inflation and reflect the spending policies of other departments in the city.
Any other ballot proposal must be approved by the municipal commissioners before August 10 to be included in the November 2 election. No additional question has yet been proposed or discussed by the committee. City attorney Lauren Trible-Laucht said The teleprinter On Tuesday, the FishPass project at the Union Street Dam site is unlikely to be on the ballot for voter approval this roundtable, citing the unresolved nature of the litigation still unfolding around the project. .
Photo (clockwise from top left): Mi Stanley, Tim Werner, Mark Wilson, Richard Lewis, Merek Roman, Mitchell Treadwell, Tim Pulliam