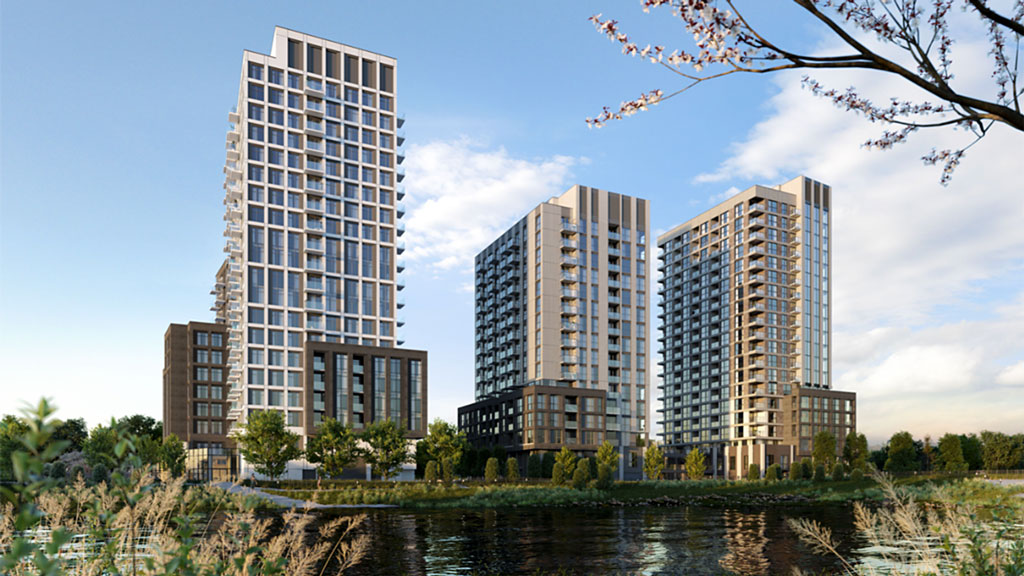 TORONTO—Minto Communities opened North Oak Tower 3, a new tower within a planned community in Oakville, Ontario.
Tower 3 is the newest addition to the Oakvillage community. It's 20 stories with 239 units located in the Trafalgar area. The building was designed by BDP Quadrangle. The community is currently under construction with completion scheduled for 2027.
The building prioritizes access to nature and the outdoors, biophilic design, sustainability best practices and an amenity program to connect residents with their neighbors, a statement said.
Landscape architect NAK Design Strategies incorporated a landscaped boulevard running along Athabasca Pond to ensure residents have easy access to surrounding landscapes, including the pond, the municipal trail system, and connection to nearby commercial plazas.
North Oak Tower 3 will be connected to a geothermal system that serves the towers in this phase of the Oakvillage community.
Geothermal systems provide renewable heating and cooling by taking advantage of temperatures below the earth's surface, a statement says, adding that it will also reduce fossil fuel use by up to 95%, protect residents from rising utility costs and does not need to be turned on or off seasonally. The North Oak Geo-exchange community energy system began in March and drilling for towers 4A and 4B is complete. Drilling for North Oak Tower 3 is expected to begin in fall 2023.
"Sustainability is an area that Minto Communities GTA will always prioritize and seek new and innovative practices to support," said Carl Pawlowski, sustainability project manager at Minto Communities GTA, in a statement. "We are very pleased with the progress of our geothermal community energy system so far and are confident that it will benefit all future residents of North Oak Tower 3. We are also pursuing top third party energy efficiency certifications and goals like Certification Energy Star Multifamily so members of our community can trust our commitment to providing better homes.