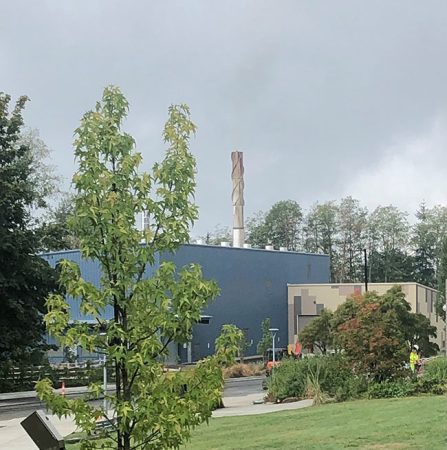 The Simon Fraser University (SFU) campus in Burnaby, British Columbia is now home to a new $ 33 million biomass plant that uses urban wood waste to provide heating and hot water to the campus and a neighboring residential community, UniverCity.
The biomass plant has been in operation since October 2020, but the project has been in the works for eight and a half years.
For SFU, the motivation behind switching from natural gas to biomass for heating and hot water was twofold, says Larry Waddell, SFU's facilities manager.
"First, SFU had an old traditional natural gas heating plant that served our campus. So there was a desire to see what options we might have to replace or extend its life, "he explains. "There was also a desire to try to become more sustainable and meet the province's goals for the public sector to reduce greenhouse gas emissions.
A unique partnership
At the same time, SFU's independent real estate development group was developing land next to campus into a private residential community, UniverCity.
The group that oversaw this project, the SFU Community Trust, wanted to make UniverCity a model sustainable community and decided to implement a district energy system. They launched a Request for Proposal (RFP) looking for private utilities in which to invest and build such a system, Waddell explains.
SFU has also decided to participate in this process. Corix Utilities was the successful promoter of the RFP, proposing the idea of ​​a biomass heating installation that could serve both SFU and UniverCity. As a result, a unique partnership was born between SFU, UniverCity and Corix Utilities.
However, this setup created some logistical challenges. SFU has negotiated its own service contract directly with Corix, but since the biomass plant also serves a private residential community, it must be regulated by the BC Utilities Commission (BCUC).
"That's what's somewhat unique about it – we have a very specific contract that defines Corix's performance requirements, including how rates are determined," Waddell said.
Under the contract, Corix designed, planned and built the biomass plant, and now operates and finances it. They decided to install a Wellons biomass boiler inside a building designed and constructed by Wellons on the SFU campus.
However, there was another logistical bump in the road.
"The City of Burnaby requires that building permits bear an architect's seal. As the building was designed by an engineering company, an architectural firm had to be retained, "says Waddell. "So that was a challenge that Corix had to face. "
Inside the factory
Despite these difficulties, once construction began in 2019, things went pretty well, notes Todd Gattinger, SFU's director of maintenance operations. In total, the construction took about 14 to 16 months.
As part of SFU's contract with Corix, the utility was awarded a five-year fixed-fiber supply contract with a five-year renewal clause for the university. The fiber in the mill is urban wood waste that would otherwise have gone to a landfill or other biomass facility.
"Our contract contains very specific language regarding the type of material that can be used as fuel, including the requirement that wood cannot simply be cut and crushed for fuel," Waddell explains. "We will not accept this."
The plant itself connects to both the existing natural gas plant at the SFU Burnaby campus and the boilers at UniverCity through underground pipes. With a capacity of 13.5 MW, 10 MW goes to SFU, with the remaining 3.5 MW going to UniverCity.
To deliver this energy to its Burnaby campus, SFU made a small modification to its natural gas plant, which had five Cleaver Brooks or Foster Wheeler boilers operating in parallel: they removed the fourth boiler and replaced it with an exchanger. heat. On one side of this heat exchanger is the biomass plant connected by half a kilometer of piping, and on the other side is the SFU natural gas plant.
"With that in mind, from our point of view, the biomass power plant is basically a new boiler," Gattinger explains.
The biomass plant now provides heating and hot water to 30 of the 50 buildings on the SFU campus. The other four boilers still run on natural gas, but they are only used to meet the demands for heating and hot water during the colder months.
Meeting expectations
Overall, SFU expects the biomass power plant to reduce greenhouse gas emissions from heating by 80%, the equivalent of emissions from 900 homes each year. According to Waddell, this puts SFU on track to meet the BC government's 2050 greenhouse gas targets.
At the time of this writing, SFU plans to conduct an analysis of actual performance against their business case in October, the first year of the biomass plant commissioning, to determine how well it is functioning. That said, the Corix biomass plant is operating as planned.
"In February, our natural gas expenses at the SFU campus in Burnaby were one-third of what they normally would have been before we had the biomass plant," Waddell shares. "This indicates that it was clearly replacing much of our old natural gas-generated heat with biomass heat."
"We have been tracking spending on a monthly basis to see if it's in line with what we estimated as well as the levels of carbon emissions we plan to avoid. So far this has gone exceptionally well, aligning closely with what we estimated in our business case, "adds Gattinger.
Community connections
The response from the local community and university students has been favorable, despite some initial reservations and misunderstandings about the sustainability of biomass.
"There has been some confusion around why we burn wood and why it's better than burning clean natural gas," Gattinger says. "The problem with carbon neutral wood as opposed to natural gas is that urban wood waste would otherwise decompose and emit carbon into the atmosphere if it were not burned. Whereas the natural gas left in the ground would not become a greenhouse gas.
The biomass facility also has a chimney where smoke and steam can be seen coming out of it, which has caused some concern among the students. However, the university helped address these concerns by explaining how the system works and the regulations regarding emissions.
"In our case, Metro Vancouver is the emissions regulator in this area, and the emissions guidelines are among the strictest in the world," says Waddell. "This factory must meet these requirements. We have installed monitoring stations on some of the adjacent buildings so that we can keep track of this. "
For the future, SFU does not plan to increase the capacity of the biomass plant, but plans to reduce its energy needs by other means.
"We have a 55-year-old campus, so we have a lot of aging buildings – there is an opportunity to explore ways to improve that," Gattinger said. "We are now embarking on a district energy system modernization, which will see an upgrade of terminal units from a high temperature system to a low temperature system. The result will be that the percentage provided by biomass will reduce our overall heating needs.
Ultimately, Waddell and Gattinger believe that the switch to biomass heating is something other universities and institutions can do quite easily. Some, like the University of British Columbia and the University of Northern British Columbia, have already done so.
"We would encourage other institutions to explore the viability of this type of biomss system for their campuses as well," said Waddell. •