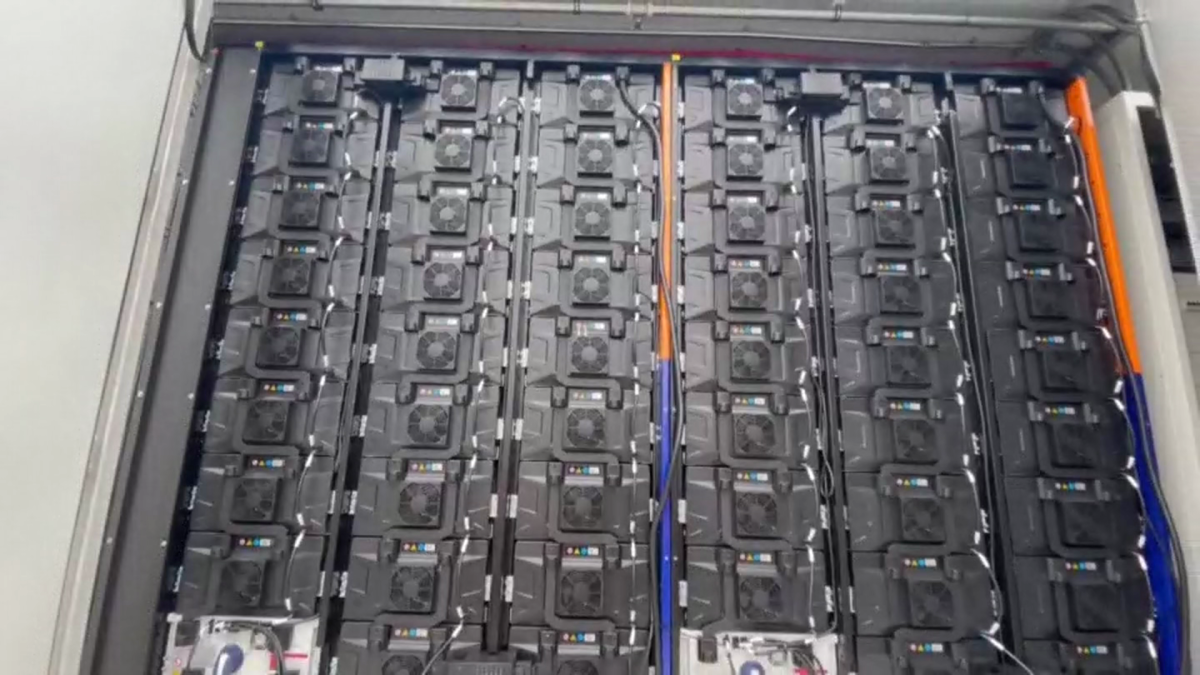 On Monday morning, Vistara Corp announced that its battery energy storage facility was officially online. It has the ability to instantly release energy to the power grid.
As the long, hot summer months draw nearer, the conversation about energy reliability and the power grid continues to be at the forefront of many Texans' minds. There is a new battery energy storage facility in North Texas that is being touted as part of the solution to help minimize electricity disruptions when demand increases.
Located at the DeCordova Energy Storage Facility in Granbury, the 3,000 individual battery modules stored in 86 containers can hold 260 megawatts, which can power approximately 130,000 Texas residences under normal grid conditions.
The lithium-ion system stores excess electricity from the grid and can also release energy when demand is high.
"With these batteries, they recharge most of the time at night when we're not using as much power and all these wind farms are blowing across the state of Texas. They recharge with energy when it's most available. , and then they're going to put that electricity back into the grid when our customers really need it," said Claudia Morrow, senior vice president of development at Vistra Corps.
She said they can take about an hour to load and unload. Unlike a regular power plant which has the power ramp up and stays at a certain level, it's not the same for batteries, which can be used as the "flip of a switch" so to speak.
What makes the Granbury site unique is the fact that it is considered a hybrid. Opposite the battery containers are four combustion turbines fueled by natural gas and backed up by diesel fuel in the event of a natural gas supply problem.
"I think the biggest benefit is renewables, that's where people are interested in seeing the power grid go, but with renewables, with wind and sun, you don't always have it in whatever amount you like, it can store it when it's in excess and offload it," said Jim Burke, President and CFO of Vistra. "And if the wind and sun haven't returned yet, we can light the combustion turbine that runs on natural gas and ensure that consumers have the electricity they need when they need it."
"It's important because we have a very powerful build-up of renewable energy in Texas, which is wonderful, but it's intermittent that the intermittence is buffered by batteries that can turn on in a second if the light from the if the sun is not available or if the wind is not blowing so that our grid stability is improved because we have thermos batteries, we have become renewable and everything works, "said the state senator Nathan Johnson (D-Dallas), who attended the grand opening of the new facility.
He believes this hybrid model is one of the solutions needed for the state as more people move to Texas and demand for energy increases.
Johnson believes there needs to be a technology-agnostic incentive to encourage this kind of innovation when it comes to alternative energy sources.
"If we encourage dispatchable generation, we could let the market determine whether it should be built with batteries, or hydrogen storage or whatever form we can use that is environmentally and economically sustainable," Johnson said. "It's being able to work with the markets to deliver the outcome we want, that's what we do as decision makers."
The Granbury site was built in less than a year and had its first real experience last week when ERCOT asked people to conserve energy due to unusually hot weather in May and several power stations are disconnected.
"It worked well that we were able to test and it worked exactly as expected," Morrow said of the batteries.
The company said this is the second of 7 zero-energy carbon projects the company is bringing to Texas, part of a billion-dollar investment.
"As our fleet and power grids across the country transition to cleaner generation, we have not lost sight of our critical role in providing reliable and affordable electricity. DeCordova's battery storage technology achieves these goals: providing instant-start, dispatchable generation to help balance the intermittency of renewables as the power grid transitions to low-carbon resources," said Curt Morgan, CEO of Vistra. there is no doubt that a project of this size and such an ambitious overall investment reinforces Vistra's position as the market leader in investing, owning and operating emission-free power generation in Texas. and beyond, while balancing affordability and reliability."
Vistra Corp, containers and inverters for the project were supplied by Sungrow and Mortenson provided engineering and construction expertise.