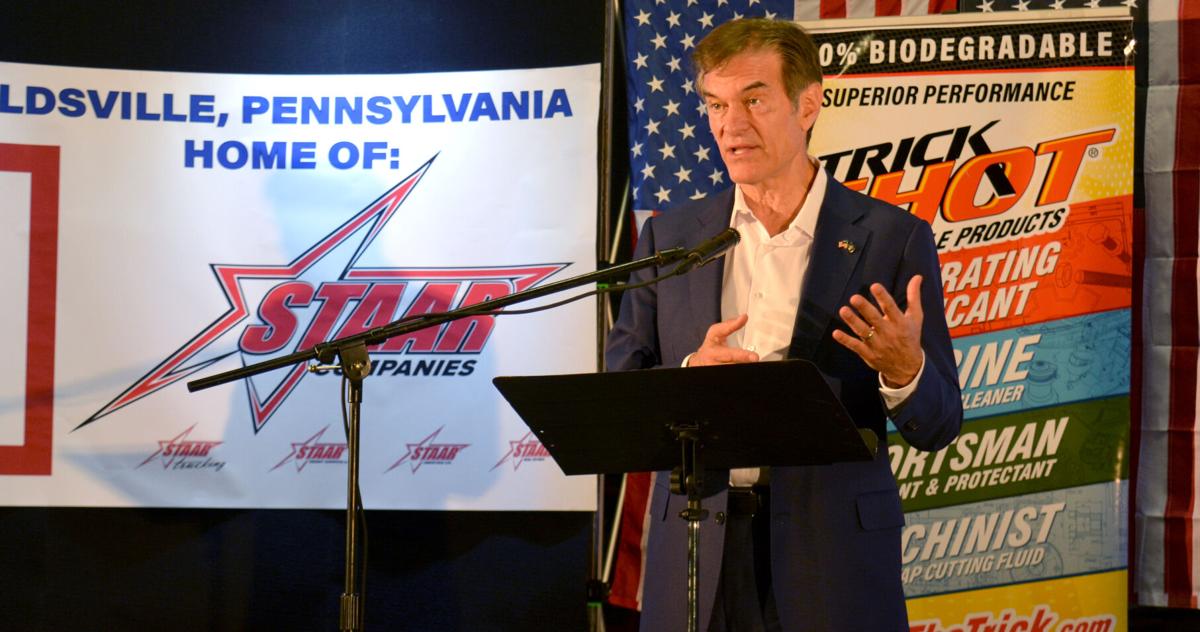 REYNOLDSVILLE – Dr. Mehmet Oz, Republican candidate for the United States Senate, visited Reynoldsville on Tuesday afternoon, making an appearance at Staar Energy Services.
Daryl Price, Vice President of Business Development at Staar, attended an Energy Industry Roundtable, hosted by Oz to better understand the industry. While there, Price mentioned that Oz would be welcome at Staar if he was ever in the area.
"I think a few years ago you wouldn't have seen a political event in a business," Price said. "Staar is a much bigger operation than most people realize."
Price wanted to involve the community in government activities and said he finds it important to involve their partners and show they believe in the energy industry. Oz aligns himself with this mission, saying he believes the future of the state lies in natural energy.
"I believe the future of this wonderful Commonwealth and for our country is to use the natural energy we have under our feet here in Pennsylvania, both to uplift communities that otherwise suffer, to relieve some of the prices of gas – more than five years. dollars on average now, and it will also reduce inflation," Oz said.
Oz grew up in South Philadelphia, in Kennett Square, and is the son of an immigrant family from Turkey. He then went to medical school at the University of Pennsylvania Medical School and Wharton Business School, where he earned a joint Ph.D. and MBA.
Oz called himself an outsider because he doesn't like to follow "the way everyone does" something. He spoke of the difficulties he faced getting his devices into surgery due to regulations and the pushback he faced when he challenged conventional medicine for his patients.
"I've competed against big pharma, big tech and big agrichemical companies. I went after the US government. I fought those battles," Oz said. "But (I realised) with my wife, Lisa, we weren't going to bed at night anymore angry at everything that was happening in our country."
Oz shared several of his key points he is focusing on as it relates to state government and the country as a whole, during his Reynoldsville commencement address.
"I want a Washington that is all about Pennsylvania and all about America. I want a Washington that is committed to lowering inflation and making the tough decisions so that we cut reckless spending, stop throwing money at problems. I want a Washington that is into energy policy, stop pretending you care about the energy sector unless you really care," Oz said. "I want a Washington that makes sure our streets are safe. I want a Washington that is committed to keeping our border secure…I want a Washington that is committed to making sure everyone has access to affordable care. I want a Washington that ensures our young people are educated appropriately and with the right values ​​and have a chance to succeed in America…I want a prosperous, strong, and powerful America.
He then answered several questions from the audience on various campaign topics such as his views on the education system, health insurance, and manufacturing in the state.
Responding to a question about education from Jeff Tech director Barry Fillman, Oz said he would take the money from the Department of Education and return it to local communities so they can spend the money.
"Where (the money) should be sent back to local communities who can spend their money better than I can spend your money. I can't start spending your money as wisely as you can spend it," Oz said.
He encouraged the public to speak with others in their lives about his campaign and have them check out his website for all of his campaign positions.
Oz then stayed at the facility to take photos with everyone and have more one-on-one conversations with those in attendance.
Oz, who beat David McCormick following a recount in the Republican primary, will face Democrat John Fetterman in November to have Pennsylvania's U.S. Senate seat vacated by incumbent GOP Senator Pat Toomey.